Why pay premium prices for shoes? For fashion enthusiasts looking to make a bold statement, Mephisto shoes offer the perfect combination of style and quality at an undeniably higher price point than your average footwear.
In this blog post, we will explore why are mephisto shoes so expensive and dive into some of the unique features that make this 'luxury' brand stand apart from its competitors!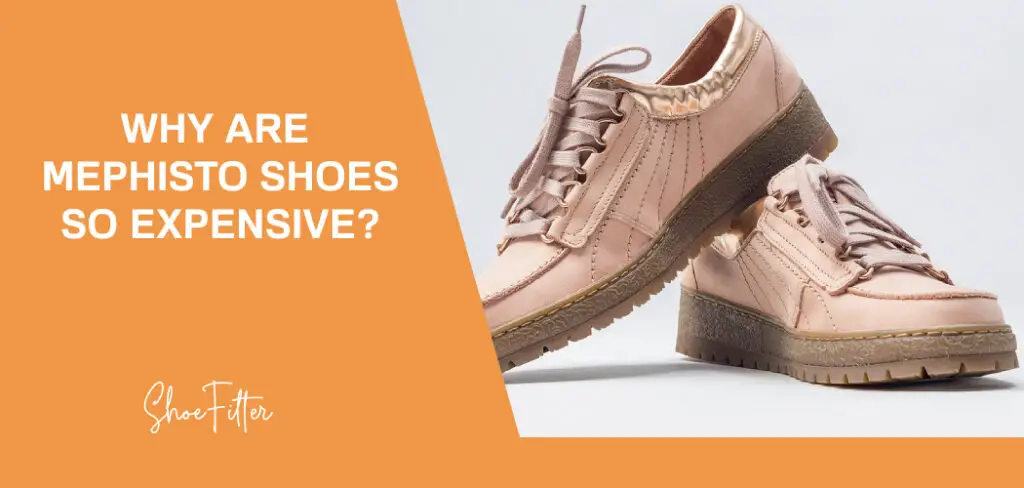 We hope by uncovering these details; you'll feel more confident about investing in a pair – after all, when it comes to designer heels or sandals, we believe you should get what you pay for.
Why Are Mephisto Shoes so Expensive?
Mephisto shoes are highly sought after due to their superior quality and craftsmanship. The leather used for these shoes is of the highest grade and grade leather, which makes them a sturdy option that will last you for years. The Mephisto shoe soles also feature a unique patented air-cushioning technology, providing all-day comfort for the wearer's feet.
Another added benefit is that all Mephisto shoes are constructed using high-quality materials that are both breathable and water-resistant, ensuring the health of your feet in any environment.
These qualities, combined with remarkable attention to detail, make the purchase of a pair of Mephisto shoes a worthwhile investment that will serve you well over time.
Quality of Materials and Craftsmanship
Use of Premium Leathers and Materials
Mephisto shoes are renowned for their unique combination of style and comfort. Their secret to success is the use of premium leathers and materials, which provide both the individual look and feel that customers love.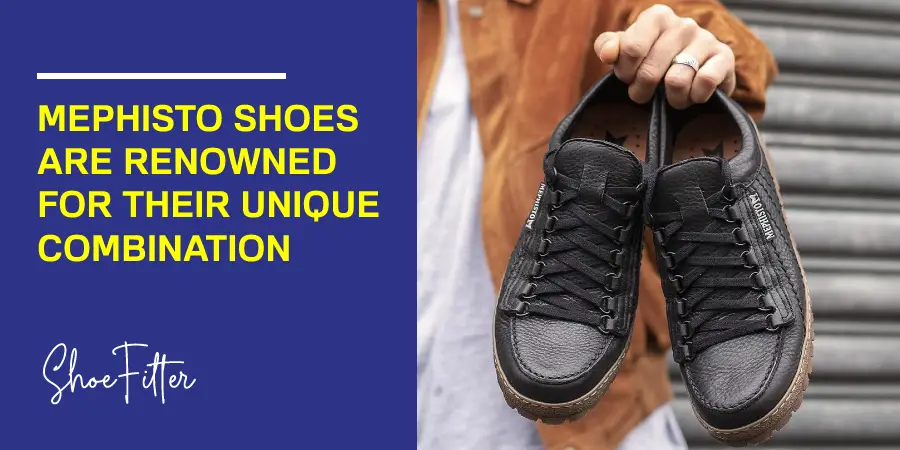 The high quality of their products ensures long-lasting durability so that you can enjoy them for generations. Mephisto puts great effort into selecting the right material for each product to guarantee superior performance and create an unmatched level of modern elegance.
With luxurious leathers such as lambskin, suede, and full grain, your feet will always be pampered in true Mephisto style.
Attention to Detail in Design and Construction
The art of Mephisto shoes is not just about craftsmanship but also about attention to detail, ensuring that the design and construction are held to the highest standards. Every Mephisto shoe is designed with a specific purpose and a distinct look in mind.
They ensure that each tiny element – like the proper placement of eyelets, color choices, and stitching – is just right. This level of expertise shines through on all products, whether it's an included lacing system for a sneaker, additional cushioning added in the heel of a sandal, or simply perfectly looped laces on any shoe.
Such attention to detail ensures Mephisto shoes are comfortable while looking good, proving they truly stand out from similar products.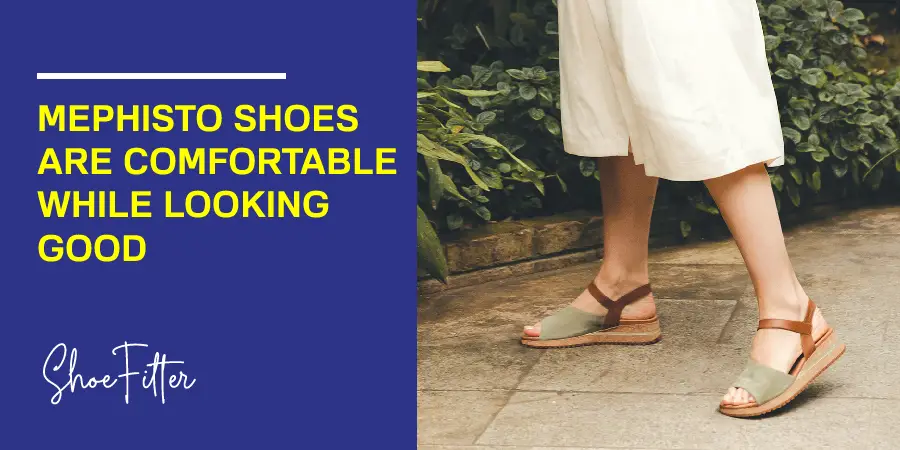 Handmade Production Process
Mephisto Shoes are highly sought after for their timeless style and superior level of craftsmanship. The handmade production process is one of the key attributes that set Mephisto Shoes apart from other brands. To ensure high-quality construction, skilled artisans spend hours handcrafting each shoe with all-natural materials.
From leather cutting and bending to stitching and hand painting, the team of artisans dedicatedly works together with an attention to detail rarely seen in modern-day footwear production. As a testament to their handcrafted approach, every pair of Mephisto shoes is unique and has its own distinct look and feel.
Comfort Features
Advanced Cushioning Technology
With Mephisto shoes, you can experience the latest in advanced cushioning technology. These shoes feature a unique combination of cushioning layers, delivering superior comfort and minimizing strain on your feet. The Mephisto design also offers breathable uppers and midsoles, so your feet can stay comfortable even during long runs.
As an additional benefit, Mephisto's soles are designed to deliver optimal traction when running on different terrains. With Mephisto shoes equipped with advanced cushioning technology, you can enjoy your next run with maximum comfort and superior performance.
Ergonomic Design for Improved Fit
Mephisto shoes embody the very best in an ergonomic design for improved fit and are ideal for optimizing their comfort. In addition, the unique technical features of Mephisto shoes, such as arch support and shock absorption, reduce stress in the feet, ankles, and legs.
Their sole features breathable materials that cushion and lessen impact while allowing airflow to keep your feet cool. Their roomy toe boxes offer full foot movement providing a balance between comfort and support. Moreover, Mephisto's high-quality leathers and materials offer long-lasting wear with a classic aesthetic.
Ergonomic design melded with timeless craftsmanship provides users with a shoe suitable for outdoor adventure and everyday sophistication.
Orthopedic Support for Optimal Foot Health
Foot health should be a priority for anyone looking to stay active and healthy. This is where Mephisto shoes come in, providing orthopedic support to maintain optimal foot health.
With Mephisto's patented soft-air technology offers the perfect combination of shock absorption, breathability, and flexibility, allowing your feet and joints to move more freely. Plus, their breathable materials help keep your feet comfortable so you can continue your day comfortably.
Not only are Mephisto shoes designed to provide comfort and arch support for various activities, but they also feature antimicrobial lining to keep bad odors away and removable insoles for customized fit options. 
As a result, Mephisto shoes are an excellent choice for keeping your feet healthy without sacrificing style or comfort.
Brand Reputation
Established Brand with A Long History of Quality Footwear
Mephisto shoes have been a household name when the company was founded. Mephisto has cemented its reputation as a reliable and trusted high-quality footwear brand. The company is renowned for its exceptional craftsmanship, using only the finest leathers and materials to ensure maximum comfort and durability.
Mephisto even metes out its own distinct soles that are oil and slip resistant and shock-absorbent to better protect your feet from any impact or fatigue with each step. These small details give customers an extra layer of security in knowing that their shoes will last for many more years.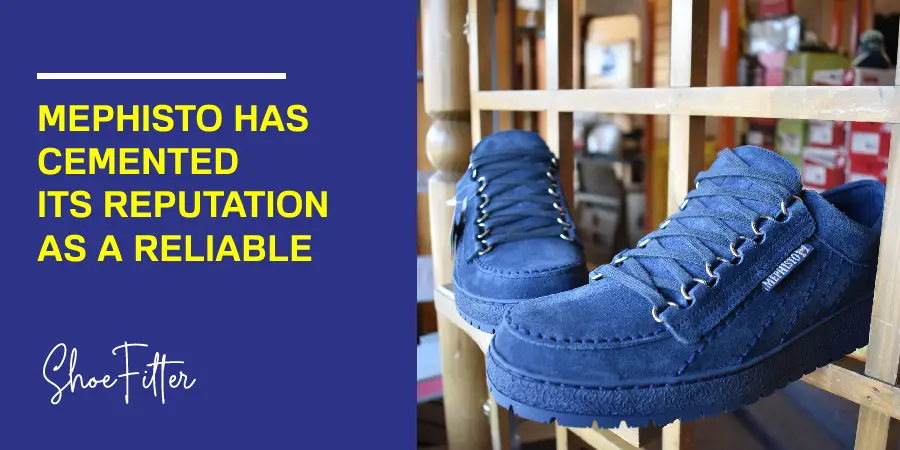 High Demand for Mephisto Shoes
Mephisto shoes are a popular shoe brand, especially among dedicated fashion enthusiasts. Recently, Mephisto shoes have seen increased demand due to their reputation for providing unparalleled comfort and durability.
The quality of Mephisto shoes is evident in the craftsmanship put into each style and design, so much so that some have described Mephisto shoes as an "investment" item.
Now more than ever, it's not just comfort seekers but those who understand the value of Mephisto shoes that contribute to the high demand for Mephisto products.
Strong Customer Loyalty
Mephisto Shoes is renowned for its commitment to strong customer loyalty. Through quality craftsmanship and superior workmanship, Mephisto has earned the trust and loyalty of countless customers throughout their years in business.
They go above and beyond to create footwear that will last a lifetime. Not only do they ensure that each shoe is built to last using quality materials, but Mephisto also offers superior customer service with knowledgeable staff who help provide exceptional advice and support.
It's no wonder that so many have come to rely on them for all of their footwear needs – they are as committed as ever when it comes to giving back to their customers.
Limited Availability
Small-Scale Production Process
Mephisto shoes are widely renowned for their quality and craftsmanship, and they owe much of it to their small-scale production process. The French brand has made small batch production its hallmark, believing that this approach yields better products due to the intricate attention each pair is given before being stocked in stores.
The process involves selecting only the highest-quality materials, careful inspection of each piece, and the utmost care when it comes to the actual construction of the shoes, all of which result in their signature durable and comfortable feel. Because of its precision-minded approach, Mephisto continues to be loved by shoe aficionados worldwide.
Availability of Mephisto Shoes Primarily Through Specialty Retailers
Mephisto shoes are one of the most sought-after brands in luxury footwear. By making them available primarily through specialty retailers, the company seeks to emphasize its commitment to quality and artistry, which can be better appreciated in a more intimate setting.
From office-to-evening dress wear, Mephisto shoes have become popular for their unique designs and signature craftsmanship that combines comfort and style.
With sophisticated tailoring, each shoe is built specifically with the wearer's needs in mind – from advanced shock-absorption technology to sole, durable composition – Mephisto shoes deliver the premium quality you won't find anywhere else.
The combination of fashion, fit, and performance creates Mephisto's renowned reputation as a leading brand in footwear excellence.
Exclusive Distribution Channels Contribute to Higher Prices
For example, Mephisto shoes are sold in exclusive distribution channels, often forcing consumers to pay much higher prices than if the product was offered through a broader range of outlets.
The company can justify the extra cost to some extent due to the premium craftsmanship behind their shoes, but is it necessary to limit access to keep prices elevated?
This type of pricing strategy benefits existing followers of Mephisto but certainly limits growth potential and competes with other innovative shoe-makers who have no qualms about making their products more accessible.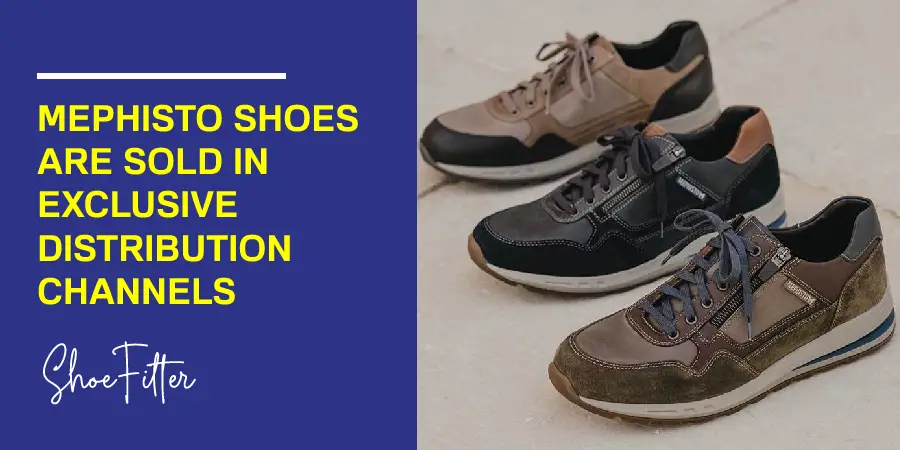 How to Choose the Right Mephisto Shoes for You?
When it comes to choosing the right Mephisto shoes for you, there are certain features you should consider. Look for Mephisto that provides optimal support, has high-quality rubber soles to ensure maximum comfort and grip, and also comes with a breathable leather upper material.
Also, consider how often you wear your Mephisto shoes – if they're going to be used frequently, then make sure they're comfortable, waterproof, and built to last so that you won't need to keep replacing them.
Finally, don't forget to take style into account – Mephisto shoes come in so many colors and patterns, so finding the right look is easy. Remember these tips when shopping for Mephisto; you won't be disappointed with the quality footwear available.
Conclusion
In conclusion, why are Mephisto shoes so expensive? The answer is simple: quality. Mephisto manufactures its shoes with the finest materials and craftsmanship available.
They take pride in creating products that customers can rely on to last for years and stand up to any kind of wear and tear. Moreover, they invest significantly in research and development to keep ahead of the latest trends in footwear.
The combination of quality materials, superior craftsmanship, and continual innovation make it clear why Mephisto shoes come with such a hefty price tag. However, when you invest in a pair of Mephistos, you're not just buying a product but in quality, style, and durability. With a pair of Mephistos, you're investing in the future of your feet!
You Can Check It Out to Why Are Golden Goose Shoes So Expensive?