When it comes to comfort style and loose fit, Hey Dudes shoes must be the first thing that will come to your mind. Hey Dudes is popular with all of them from outdoor geeks to adventurers and needs no separate introduction. 
Whether for fashion or comfort, people take socks with them. Being trying out different branded shoes and reviewing them with people for many years, and I got to say, not all shoes go with socks. Your suffering may begin in the middle of the party.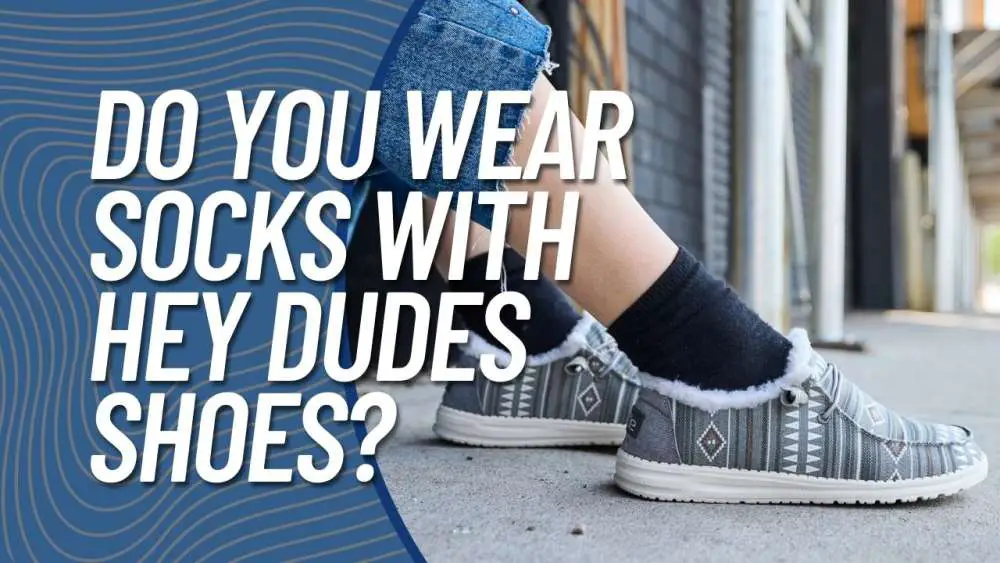 So, one evening my friend Rosaline asked, " Do You Wear Socks With Hey Dudes Shoes?". She had a presentation next week and wanted to know if she would be wearing just right. 
To be honest, the way I see it, it doesn't matter whether you wear it or not.  
Here I will be sharing all about them with you and many other socks-related questions that you have wondered about but never got the answer to.
Do You Wear Socks with Hey Dudes Shoes?
The honest answer would be, "it doesn't matter." Most collections of Hey Dude are casual with any outfit. It is mainly designed to provide you comfort, so it won't matter if you are wearing it with socks or not.
Here is something you should keep in mind when you wear Hey Dude shoes. Do not wear it dirty and wet. That will ruin everything. So, keep your feet clean, dry, and fungus-free to gain the best comfort Hey Dudes can offer.
How Could You Wear Hey Dudes Shoes Without Socks?
The secret to a great dish always lies in the recipe. The secret to Hey Dudes Shoes is being comfortable without socks in its features. Here we have 4 features to look at.
Loose-Fittings
Many people have misconceptions about "what truly means loose fittings." Loose fittings mean that the shoes will just gently embrace you enough so that they won't fall when you walk. It was never meant to fit you tightly. Even though there will be laces to make small adjustments, Hey Dudes have never offered tight fittings.
Best Cushion
You can not have a comfortable shoe without working on the sole and the closure. That's what the people at the Hey Dudes did. Their shoes have shock-absorbing memory foam insole to deliver a comfy footbed.
Moreover, the foot lining around the closure gently hugs your ankle for subtle fittings. On the inside, you will find a soft lining that provides a cool feeling when you walk with it. So, having a sock is not necessarily always needed.
Best Upper Material
We look for 3 things when we judge the upper material of the shoe. They are protection, flexibility, and freedom of your feet. 
To cover all 3 of them, Hey Dudes come with a knitted textile, canvas, or just stretchy textile upper. You do not have to bear the pain as you walk by.
Lightweight & Breathability
Weight plays a great role in determining how comfortable your shoes will become. Shoes that are made with leather upper and rubber outsole are generally heavier than textile upper and EVA outsole. 
On average, Hey Dudes weighs about 150g (5 ounces) as it is built with a textile upper and EVA outsole. No more carrying weight with your feet from now. 
Textile upper offers another advantage- Breathability. Textile upper offers inflow and outflow of air to and fro your feet. This increases comfortability. But look out for water as this may damage the textile.
Is It OK to Not Wear Socks with Shoes?
It is OK not to wear socks with shoes as long as you have properly taken care of your feet. This includes keeping your feet clean, dry, and fungus-free. 
It is not a lock-key relation with shoe-socks. You will find benefits of wearing a sock and back draw of not wearing socks as well. Let us go through them all.
Benefits of Wearing Socks
Your feet are not only about the skin and meat. There are hundreds of thousands of sweat glands in your feet, and they are the continuous suppliers of moisture. This moisture fuels the growth of bacteria and fungus.
This is where socks come into play. They absorb excess moisture preventing bacteria and fungus from growing and keeping your feet dry. Socks also prevent calluses and blisters from occurring in your feet. Moreover, they act as a cushion for your feet while you walk.
Drawbacks of Not Wearing Socks
With all its benefits, there are also drawbacks to going sockless. Most famously, there will be increased chances of developing athlete's foot and similar infections. How so? 
Without socks, there is not enough layer to absorb the moisture and sweat of your feet. This made the inside of the shoe warm and full of moisture- the kind of environment where the bacteria and fungi thrive.
So, in conclusion, if you like to go sockless, go for it. But remember to take care of your feet on a regular basis. If that becomes harder for you to maintain, try going with socks and enjoy its benefits.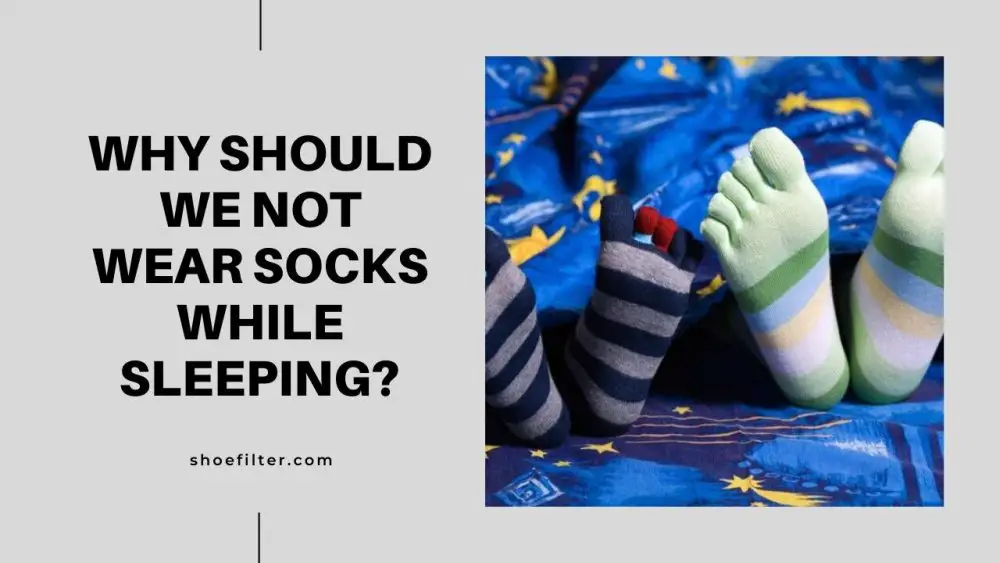 It will be very hard to find a modern family where parents do not forbid children to sleep with their socks on. Is it some kind of Superstition from the old times, or is there any rationality behind it? Here, we will look into 2 reasons why sleeping with socks on is a bad idea.
Hygiene & Risk of Infection
Let us start with Hygiene. Even though it absorbs moisture from our feet, keeping our feet dry, it can also be a source of bad odor and uncleanness by wearing it for too long. 
Moreover, between the sock and the skin of your foot, there will be an environment where the fungus and bacteria will thrive. That will increase the risk of infections. So, do not go to sleep with the socks on.
Affect the Body Function
There are two aspects that deserve a highlight- Blood Circulation and Body Temperature. Both of them can get affected by sleeping with the socks on. Say you are wearing tight socks. Wearing it for too long can reduce the blood flow to and from your feet. Consequently, you might have muscle pain, numbness, or cramping in the legs.
Either affecting the temperature or blood circulation will affect the quality of your sleep. If the socks are made of unbreathable fabric, your body temperature will rise as no heat can escape from the feet. So, it would be best to take the socks out before bed.
Read also: How to Tighten Hey Dude Shoes?
Final Words
Nowadays, shoes that offer versatility and comfort are the ones that are getting increasingly popular. To cope up with the trends, it is not uncommon to wonder whether or not they can be worn with socks. 
Here, we covered the answer to that question: "Do You Wear Socks With Hey Dudes Shoes?". Moreover, we showed you that you should not wear socks while sleeping and the consequences you would be facing if you do. So do not fall asleep with your socks on, ever!
If you are wearing socks, there should be two reasons for it. One is to keep your feet healthy, while the other is to stay out of foot-related diseases and infection. So next time you are preparing a presentation like Rosaline or attending a family function, you know what to choose from your shoe wardrobe.
Related posts:
Hey Dude Alternatives
10 Best Hey Dude Shoes
How to Clean Hey Dude ‌Shoes