Many people prefer buying second-hand shoes from thrift stores. Besides saving money, it sometimes lets them get some amazing vintage footwear to brag about. 
But how to clean second-hand shoes to kill fungus, bacteria, or viruses? 
Certainly, a pair of well-maintained second-hand shoes are a great alternative to expensive designer collections. But it's important to disinfect them before using them. Cleaning them on a regular basis also retains their like-new appearance for a long time.
Well, you can use baking soda, dishwasher, mild detergent, hand sanitizer, etc. as quick fixes to clean your second-hand footwear. A piece of damp cloth soaked into a mild solution and a toothbrush to clean the outsole is an excellent idea to sterilize them at home. 
However, different materials like leather, suede, etc. need different treatments for being disinfected. Let's dive deeper to learn more in this regard!
How to Disinfect Inside of Shoes?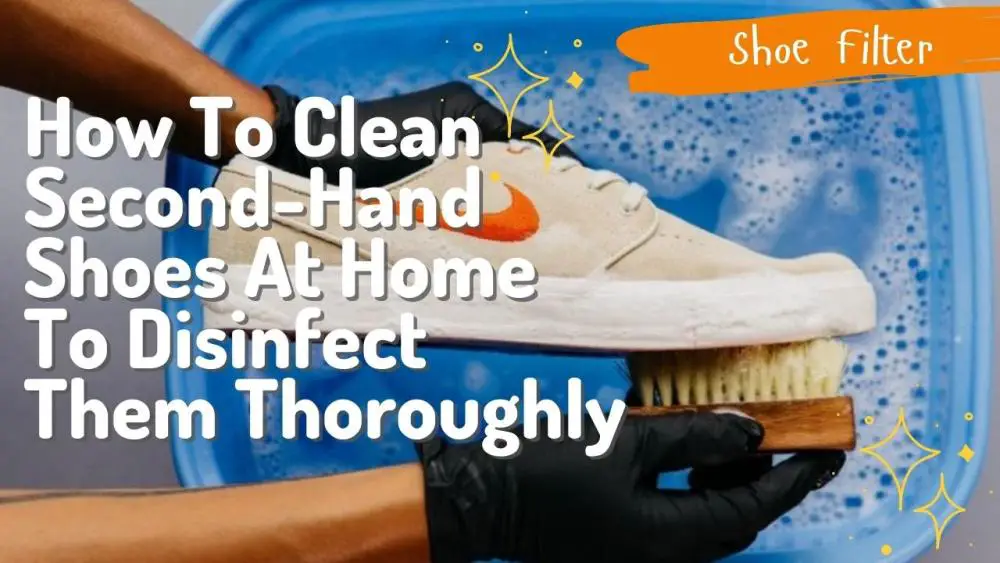 After collecting a pair of old shoes, you must take some time to sterilize the inside thoroughly. Otherwise, the remaining virus or bacterial would be transferred to your feet leading to serious infectious diseases.
First, take the inner sole out. You can hand wash it with a soapy solution. Or you can rely on chemicals such as rubbing alcohol, a solution of bleach and water, hand sanitizer, etc. Besides, vinegar and baking soda have amazing deodorizing properties to remove the odor inside. 
To start with the process, mix lukewarm water and detergent. Then rub the insole with a soft rag or sponge doused into it. You can also douse the shoes in a mixture of vinegar and water to get rid of germs.
For machine-washable shoes like sneakers, dress shoes, etc. you can use a washing machine to clean as well.
However, if you prefer chemicals to disinfect your second-hand shoes, take some rubbing alcohol in a big bowl. Then put the shoes inside the bowl for some time. But shoes made of leather, suede, or plastic shouldn't be soaked. In that case, gently rub the inside with a soft piece of cloth after spraying some alcohol. 
Also, you can use bleach likewise to sterilize the inside of your used shoes or boots. You need a spray bottle for carefully spraying it inside. Please don't disinfect the outside of your shoes. Otherwise, you will end up having bleach stains.
Another great way of disinfecting the shoes inside is using antibacterial sanitizers. This works for all kinds of shoes. After spraying it inside, let the shoes dry completely. That's it, your second-hand pairs will be free of any germs or odor.
How to Clean Second Hand Leather Shoes?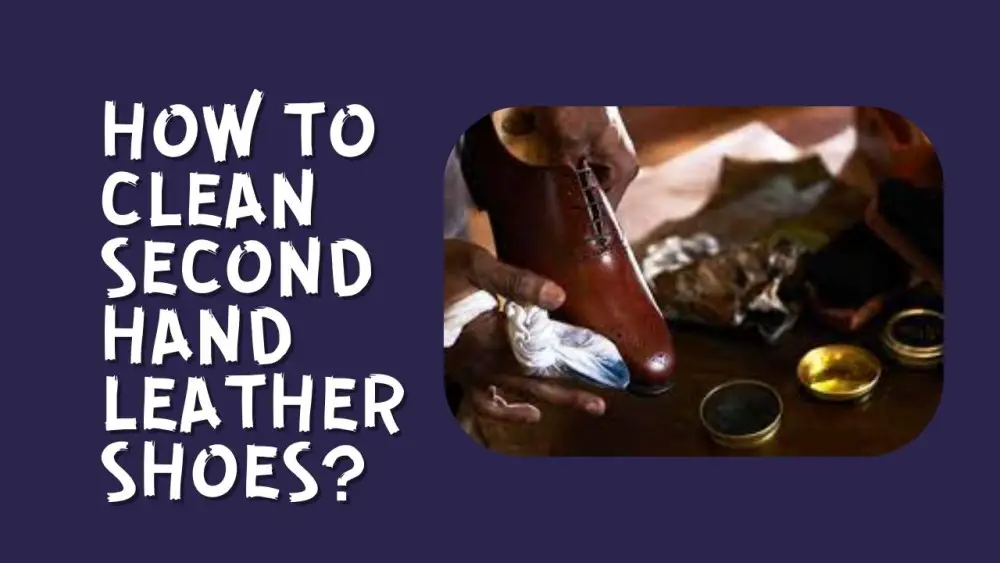 We all know that leather is a premium shoe-making material. At the same time, it is pretty delicate. So, you cannot clean leather shoes however you want. Used leather shoes especially need special care. 
For leather shoes, avoid machine wash so as not to damage the material. And these shoes stain pretty easily. So, avoid strong detergents. Go for a mild one and a soft-bristled brush to scrub the shoes. Please don't put much pressure, it would damage the material.
If used footwear has some stubborn stains, use a magic eraser or leather conditioner. They work exceptionally well to eradicate all sorts of old marks.
How to Disinfect Shoes from the Thrift Store?
Collecting shoes from thrift stores might be a hobby, or it could be out of necessity. In both cases, you need to sterilize the shoes to get rid of fungus and bacteria.
To disinfect old footwear from thrift stores, you can use UV light to kill fungus, direct sunlight, wet wipes, or disinfectant spray. 
One of the most convenient solutions to this problem is to use UV light. To do this, place the shoes inside the sanitizing machine and turn the light on. The powerful ultraviolet ray would kill the fungus inside just within 15 minutes. This process is a bit expensive though!
As an easier aid to this issue, you can put the shoes under direct sunlight. If the sun rays are intense enough, a day will be okay to kill the germs. But direct sunlight could affect shoes like suede or leather. The UV rays treatment is better in that regard.
However, the quickest of all solutions is to use a disinfectant spray containing at least 65% antibacterial properties. After a gentle spray, a quick dry of the shoes would make them absolutely microbe-free. 
And for everyday use, nothing can beat disposable wet wipes. Not only do they make the shoe's surfaces germ-free but also maintain the luster of leather shoes.
How Do You Clean an Old Pair of Shoes?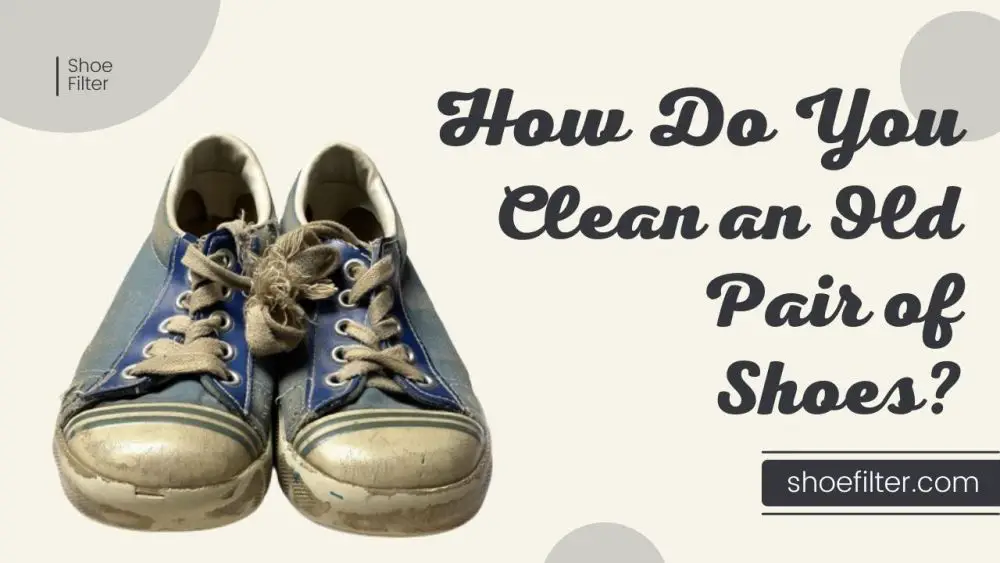 To clean an old pair of shoes, go for either a machine wash or hand wash depending on the material. Usually, delicate shoe materials like plastic, suede, or leather need to be hand-washed gently.
First, soak the insole in a soapy mixture for 30 minutes. Then rub it off with a soft cloth or brush. Finally, you should rinse it with cold water properly. Of course, you need to dry it out before further use. 
To clean the outer part, a solution of lukewarm water and laundry detergent is the easiest way. Make use of a rag or toothbrush to get rid of dirt, stain, or germ. A gentle scrub with the solution should complete the process. However, you should continue rubbing the shoes until they are entirely cleaned. And finally, wash them thoroughly with clean water.
We would like to share an expert tip in this regard. Go for downward strokes with brushes for suede and leather shoes instead of upward strokes. This will not harm the material but still, remove all the dust and dirt.
Is Baking Soda Good to Clean Shoes?
Yes, it is. In fact, baking soda works as a great deodorizer. It works pretty well as a quick fix to clean a used pair of shoes. 
The cleaning procedure is quite easy as well. You just need to evenly spread a bit of baking soda inside the shoes. Leave them overnight and in the next morning, shake off the excess powder. Not only will it eradicate all bad smells from the vintage shoes but also restore the appealing shine like new shoes. 
To remove any stain, mix 1 tablespoon of baking soda with some vinegar and create a smooth paste. Then apply it directly to the stains with a toothbrush. Let the paste dry and then clap it off and rinse the shoes thoroughly. 
However, you can follow this process as many times as it's required to get rid of more rigid spots like coffee, paints, blood, etc.
Can You Use Hand Sanitizer to Clean Shoes?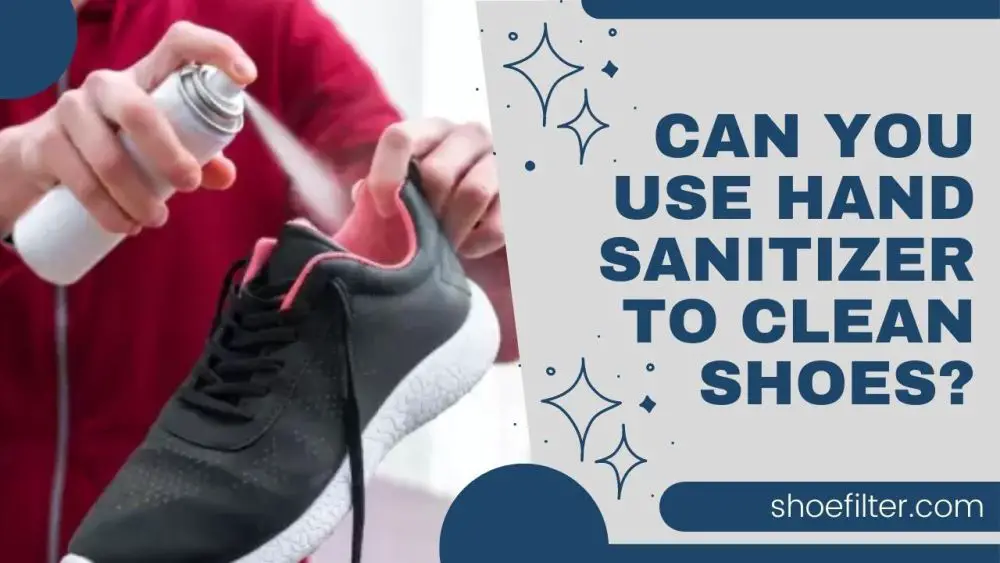 Absolutely yes. But you need to be careful enough not to damage your favorite pair of shoes. Hand sanitizer works when you use them in a small amount and let them dry completely instead of rubbing out. 
On that note, please remember that if you use hand sanitizer to clean leather shoes, do not use them outside as this strong liquid will leave ticklish stains hard to get rid of.
How Do You Get Rid of Bacteria in Shoes?
Rubbing alcohol works incredibly well to kill bacteria. So, you can use it to kill bacteria on your second-hand shoes.
However, to do that, pour an appropriate amount of alcohol on the surface. Then keeping the shoes in warm places, like under direct sunlight or close to a heater would be the best way to kill the germs better.  
Can I Machine Wash My Second-Hand Shoes?
You can but make sure to check the washing instructions first. Materials like fabric or canvas are compatible with machine wash. But delicate materials like leather, plastic, or suede should not be tossed in the washing machine. 
Please remember that after every machine wash, you should air-dry the shoes entirely to prolong their lifespan. 
Final Words
People who shop thrifty know how important it is to sterilize a newly purchased pair of old shoes once you are home. But many of them don't know how to clean second-hand shoes in the right way to get rid of all sorts of germs.
Hopefully, this article can be a guideline for those. We explained how you can reuse a second-hand pair of shoes by restoring their like-new outlook.
Whether you choose bleach, vinegar, baking powder, or a mild detergent for hand washing these shoes, all work well as disinfectants. Besides, some shoes are also compatible with machine wash. But take off the shoelaces and excessive dirt before placing them into the washer. 
With that said, you can rely on the inexpensive household ingredients mentioned above to kill fungus or bacteria of your newly bought second-hand pairs. Rest assured that they won't disappoint you.
Related posts:
How To Clean White Shoelaces Without Bleach
How to Clean the Bottom of Shoes to Return
How To Clean Second-Hand Shoes