Who doesn't love a brand new pair of shoes having dazzling white soles? I am sure everyone does. But you cannot keep the soles white forever. Over time, they are bound to turn yellowish.
So, you should focus on how to remove yellowing from shoe soles. 
Only a little bit of effort is enough to do so. Some household products like baking soda, bleach, white vinegar, toothpaste, hydrogen peroxide, etc. are great cleaning agents to turn your yellow shoe soles white again.
Of course, you need to know how to use these cleaning agents properly. Apart from the procedure, the quantity also does matter. As an aid to this task, I have extensively discussed the steps of cleaning yellow soles below. 
Hope this helps restore the like-new whitish glaze of your favorite footwear!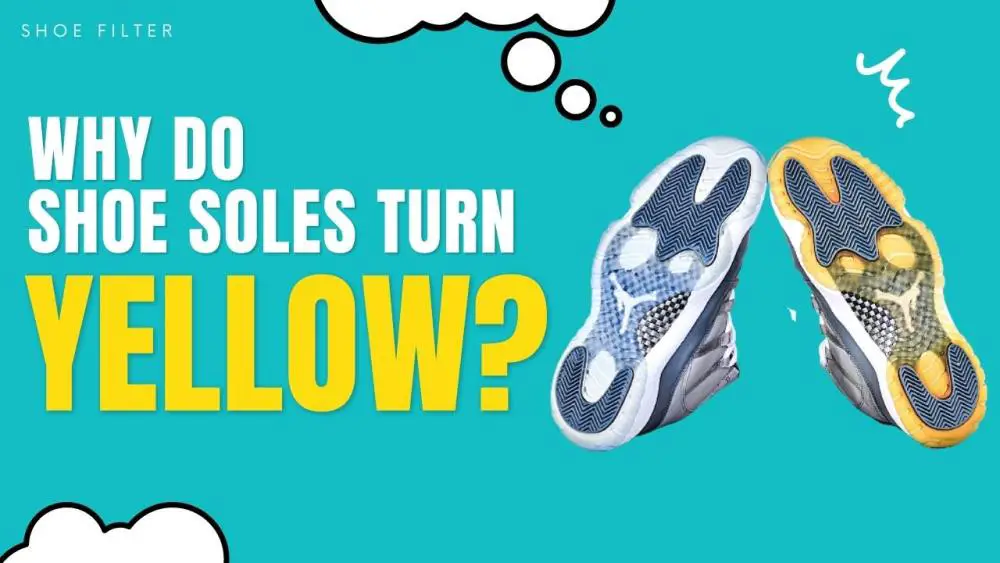 To be exact, oxidation causes the whitey soles to turn yellow. When the shoes are exposed to moisture, sands, water, etc., oxidation happens.
Try avoiding grass, dirt, and water as much as possible not to have a yellow sole soon. Though you cannot avoid yellow soles forever, you can certainly slow down the soles from getting yellowish. 
As already said, oxidation happens when the shoes get exposed to moisture and oxygen together. A chemical reaction causes the soles to become yellowing. Also, grass, dirt, sweat, etc. can lead the shoes to lose their white luster.
Moreover, your shoes or boots could turn yellow due to improper cleaning procedures. So, you must be careful enough to choose cleaning substances.
How to Whiten Yellow Soles on Shoes?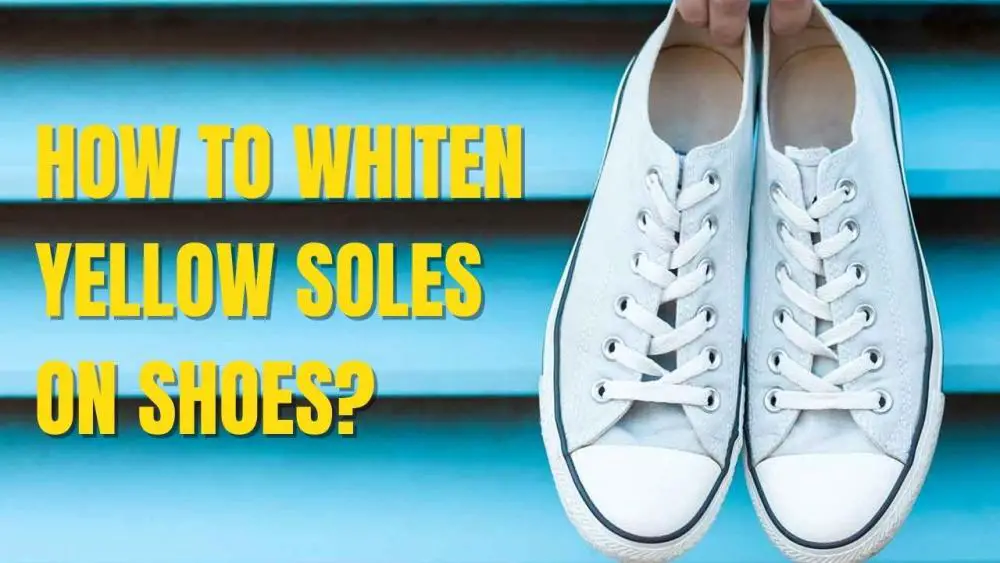 To whiten yellow shoe soles, hydrogen peroxide with baking soda, bleach, white vinegar, toothpaste, etc. work better. You can use the substances separately or create a mixture. However, most agents work great when you make a pest of them mixing with water. 
Let's discuss the processes in detail! 
Hydrogen Peroxide and Baking Soda
One of the most effective solutions for cleaning your old yellow shoe soles is the mixture of hydrogen peroxide and baking soda. First, make a smooth paste of them and then apply it to the soles with the help of a toothbrush. Let the mixture sit for around thirty minutes. 
In this stage, wrap the shoes with plastic paper and put them under the sun. Please remember you cannot place them under direct sunlight without covering them up.
After thirty minutes, take the boots inside and unwrap them. Scrub the paste off and rinse thoroughly. Then air-dry the shoes and see the magic! The shoes will get back their whitish sparkle.
Water and Hydrogen Peroxide 
Similar to the previous method, this too works pretty well. Instead of baking soda,  take some water and mix it with hydrogen peroxide. After applying the thick solution to the yellow shoes, let it rest for at least twenty minutes. Then rub off the paste gently and wash them in clean water.
Before drying the shoes, wrap them up inside a plastic bag and put the bag under the sun.
Water, White Vinegar, and Baking Soda
These three cleaning substances work incredibly well when it comes to turning your yellow shoes white again. Combine these three in equal amounts to make a thick paste. Please use warm water in this method.
The rest procedures are the same as before. You need to just wait around 45 minutes for a better result. And once all done, air-dry the shoes entirely.
Water and Bleach
Bleach is a powerful cleaning agent to wash dirty shoes. Being mixed with water, it can remove the yellowish tint of your white shoes too. But you should be very careful as bleach itself has a yellow dye within it. 
So, apply the mixture of bleach and water only on the soles, that too with an applicator of course, not with bare hands. And try using a minimum amount of bleach as overuse would lead to the soles getting even more yellowish.
Toothpaste
This is the longest yet most common solution to the problem. Apply an adequate amount of toothpaste to your shoes and leave them for at least one hour. Before cleaning your shoes with a damp rag or water, don't forget to take the toothpaste off using a soft-bristled brush.
How to Clean Yellow Shoes with Baking Soda?
Baking soda is undoubtedly a wonderful cleaning agent. But there are certain ways you should follow when you use it for removing yellowing from shoe soles. 
To start with the process, the amount of baking soda is quite important. For a single pair, you can take two tablespoons of soda. 
However, applying it alone won't help much. Instead, you can mix it with other cleaning substances like washing detergent and toothpaste. These three can create magic working together. For two tablespoons of soda, take four tablespoons of detergent and 10 g of toothpaste.
Or you can mix soda with hydrogen peroxide, and hot water. In both cases, you need to male a smooth paste and put that into use on the infected yellow stains.
It's better to cover the shoes with plastic to avoid oxidation. After that, soaking the soles into the lukewarm water for 30 minutes and scrubbing the mixture off would do the rest. 
Can Toothpaste Remove Yellow Stains from Shoes?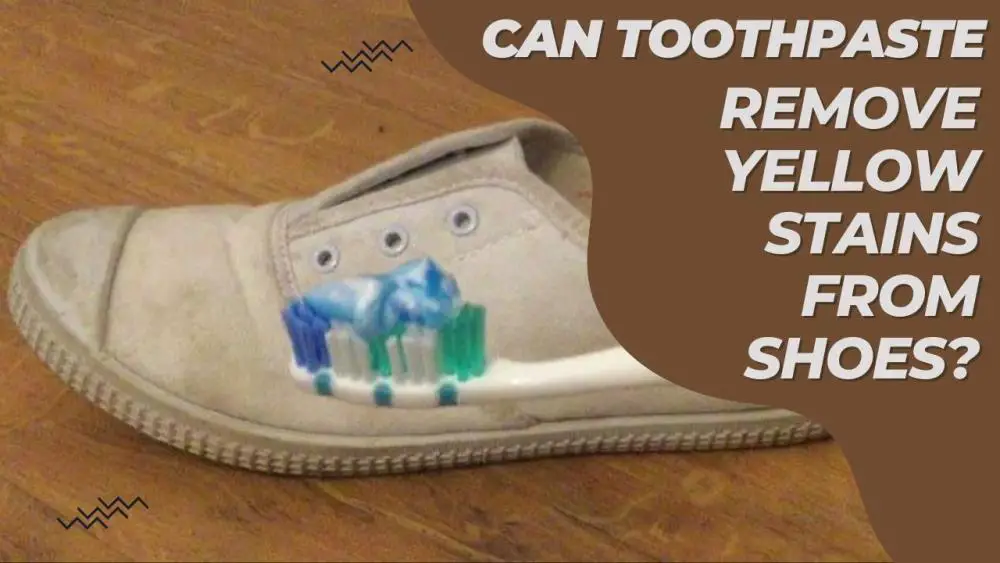 Yes, toothpaste can whiten your shoes removing the yellow stains. In fact, this is a very popular quick fix to the year-old yellowing disease.
You can apply a thick layer of your regular toothpaste singly or mix it with other cleaning agents. But when you are in a hurry, take some of it and apply it to the stain in a circular motion. After 10-15 minutes, wipe off the paste with a wet sponge or cloth. You can continue the process if needed. 
Also, whitening toothpaste can instantly cover up the yellow stain. It's not a permanent solution though! 
How to Avoid Yellowing in Shoe Soles?
To be honest, you can't stop the yellowing process completely. But there are some effective ways of avoiding the issue as much as possible. Avoiding dirt, grass, mud, water, etc., cleaning your shoes instantly after getting home, not coming in contact with chemicals wearing white shoes, cleaning shoes in the right way- these can slow down your white kicks getting yellow.
If you don't use the shoes for long, store them in cold and dark places. Keep them away from sunlight or moisture. Using a moisture barrier bag is highly recommended in that case.
Also, after every wash, air dry them at least for 12 hours. And please don't put them under direct sunlight as that would make them discolored eventually. 
Moreover, be sure there is no dirt or water stuck for so long. This will accelerate the yellowing process as humidity is the biggest enemy of anything white.
Read also: How to Clean White Sneakers with Baking Soda
Final Words 
Hopefully, the researchful ways above show you the path on how to remove yellowing from the shoe soles. As you cannot stop the natural process of oxidation, you should at least be prepared to fight it back.
Our regular household ingredients like white vinegar, detergent, toothpaste, bleach, baking soda, etc. can bring back the box-fresh burnish to your shoes. Not only they can eradicate the yellowish stain but also retain the whitey glamor for the longest period. 
All the methods explained above are personally tested by me which gave me fantastic outcomes. Try them out and find out which method works the best for you.
Suggestive posts:
How To Clean Second-Hand Shoes At Home
How to Stop Wetsuit Boots Smelling
How Can You Stop Your Shoes From Squeaking