Any athlete who wants his speed during the race to act in his favor needs to be efficient throughout his drive across the hurdle. 
Now, months of practice will take you and other athletes to unlock that potential but there is something pivotal that can make or break the case for you: the shoes you wear. 
Your spikes need to be flexible enough to bend with you, powerful enough to absorb shock and keep you pushing, and true enough to your foot size without strangling it. This is where the best spikes for hurdles come in.
The 6 spikes enlisted in this article are meant to give you a wide range of movements during your sprint hurdles. So for the best hurdling techniques and to know which shoes bring about that performance, let's get started with the comparisons.
3 Picks for Hurdles
Best Spikes For Hurdles to be Speedy in the Race  
Here are the detailed reviews on the best hurdle spikes for both men and women that let you choose the best one to be the winner in the race.
Top Pick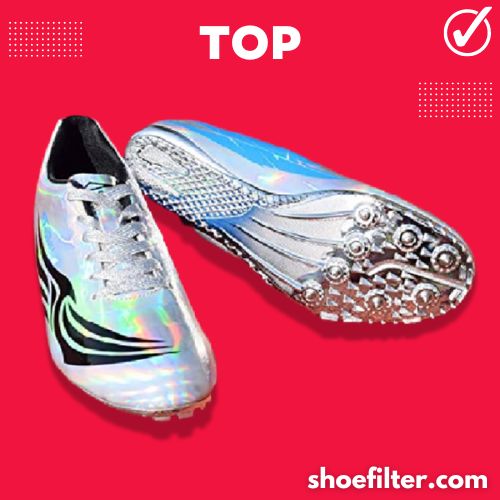 Ifrich Men's Women's Track & Field Shoes 
Rubber sole for grip and traction throughout the race.
Distracting upper that works against opponents by attracting their attention to your feet.
8 strong and tough spikes that maintain your movement along the track with power.
Comes with extra spikes for replacement in case of damages to the existing ones.
Can be used for running, racing, workouts too besides hurdles.
The first spike on the list that is suitable for men and women, young or old, is this stylish golden pair from Ifrich. Although the style isn't the biggest factor of shoes that can make you win hurdle races, it does have some great features. Take a look:
The first thing that you will think about this showy pair is that with all the glitz it may seem as if it isn't the most comfortable one. 
However, you'd be wrong in thinking that! This lightweight pair is one of the most comfortable ones( with its EVA insole) on the list despite having the most flashy upper mirror leather.
On the sole, as mentioned already, you have TPU with anti-slip metal spikes that boost your speed. So any sort of racing that combines running and jumping can be dealt with with this pair.
Runners Up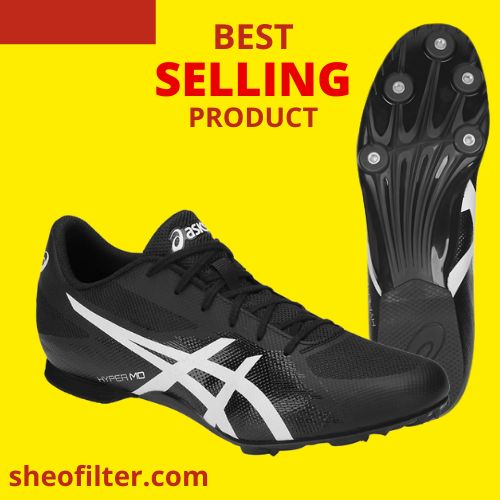 ASICS Unisex's Hyper MD 7 Track & Field Shoes
This is a lightweight pair with an open-mesh construction that increases breathability.
No-sew films in the shoe add reinforcements and provide you with a good upper fit.
The EVA midsole on the underfoot gives you good support.
The EVA sock liner grants you additional support and a highly flexible fit.
Streamlined graphics and sturdiness last for many events and training sessions.
Considered to be very functional among the best 400m hurdle spikes, this pair right here is a little like its predecessor in the fact that it has removable spikes just like the Ifrich Track & Field Shoes. Here's why middle-distance runners love it too:
The pyramid spikes in this lightweight pair are its best bits. Located in the Pebax Spike Plate at the front of the shoe, a five-pin configuration allows you control and traction whenever you need it. The sturdiness from the spikes propels the stride of the athletes onward with more power.
Another unique thing about it is the inclusion of a particular rubber component in the heels that increases its durability. Also, the midsoles of the MD 7 are made of double-density EVA which grants you exceptional cushioning and lessens the intensive impacts on your knees when you run.
3rd Pick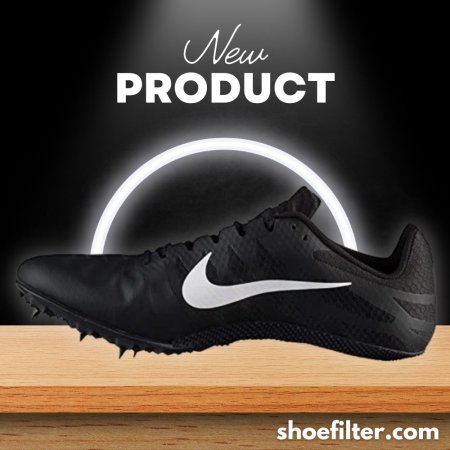 Nike Men's Training Track Shoe
Comes with internal arch bands that wrap around your feet securely.
Features an upgraded design that gives you more tractions and easier transitions on the field.
The midfoot includes synthetic overlays that increase its durability.
The sock liner conforms to the shape of your feet for both good support and comforts
The overall traction pattern is made of entire rubber.
While the Hyper MD 7 is suitable for medium to long-distance runs, the Nike Zoom Rival S 9 is better if you're looking for a spike for short to medium distance run. Snug, light, and smooth in transitions, here's what the training track shoe ideally brings to the field:
Compared to all the hurdle spikes so far, you have the highest number of spikes in this particular pair from Nike, about 7. All of these are removable pins for the convenience of the wearers and are made of aluminum to deliver you with an optimal grip during hurdles.
This is also very beginner-friendly, so for those looking for entry-level spikes for sprints, this is a good deal to increase the initial speed. Also, if you are into long jumps as well as hurdles, this can be a good spike selection for you. 
4th Pick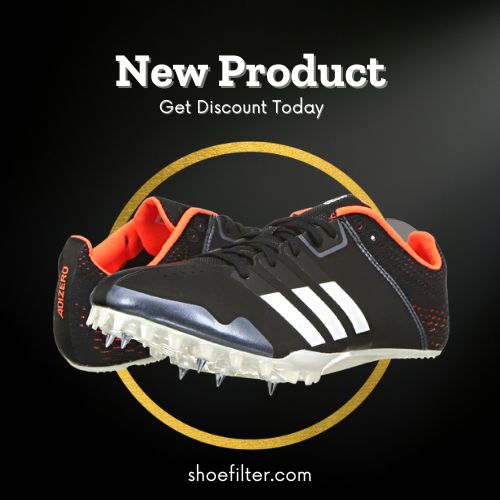 adidas Adizero Finesse Running Shoe
Ripstop mesh upper allows the wearer to not sweat when training or running in these.
A propulsive spike plate pushes the runner's stride forward and lets you stay on foot for longer.
Locked-in fit in the finish and bend of the shoes reinforce more targeted support.
Fine-tuned for the 200m and 400m hurdles as well as long jumps.
Generated from 50% recycled products to reduce environmental impacts.
With just one spike count less than the Zoom Rival S 9, the Adizero Finesse comes with 6 pyramid-shaped spikes. Combining comfort, durability, foot fit, and of course reasonability, here is how the shoe tries to enhance your running performance:
For intermediate athletes who love to run short-distance hurdles, the Adizero Finesse is suitable for both men and women and also happens to be one of the best women's track spikes for hurdles. 
Featuring a uniquely narrow heel width, it keeps your feet secure, and with the low height in the midfoot through the toe box, this is very happening for small-stature athletes.
You get what is called an optimal energy return from this pair owing to its weight which is less than 5 ounces. Feeling significantly light on foot, you can take on the sprints and hurdles straight in their faces with maximum speed on both indoor and outdoor tracks.
5th Pick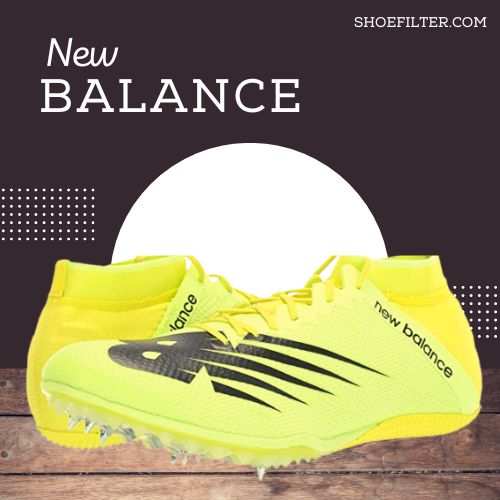 New Balance Men's Short Distance 100 V3 Spike Running Shoe
Made from 50% mesh and 50% synthetic material.
Provides you optimal traction for distances ranging from 100 to 400 meters.
These spike pins are intended to be more aggressive when it comes to traction despite having a light composition themselves. 
Comes with a bootie construction that wraps comfortably around your feet.
Includes an integrated tongue that allows you to put the shoes on and off easily.
Much like the Zoom Rival S 9, the SD100V3 is suitable for beginner runners, However, unlike the former, this has 6 spike pins like the  adidas Adizero. Made for those who want to take their track careers to a professional level, here are the details of its features.
A sprint platform for those new into track and field, these spikes have excellent grip and traction are quite lightweight for a speedy performance on the track. But there's something more here that complements the traction from this pair. The patterned rubber outsole has significant texture along with the pins that increase the grip you get from this.
Another thing about this pair is that it has a foot-conforming fit. What that means is that it has a mesh construction which is useful for anyone that suffers from excessive sweating during a sprint or training session. 
It is more secure in the ankle area so for those needing a shoe that is highly supportive and has a snug fit, this is it.
6th Pick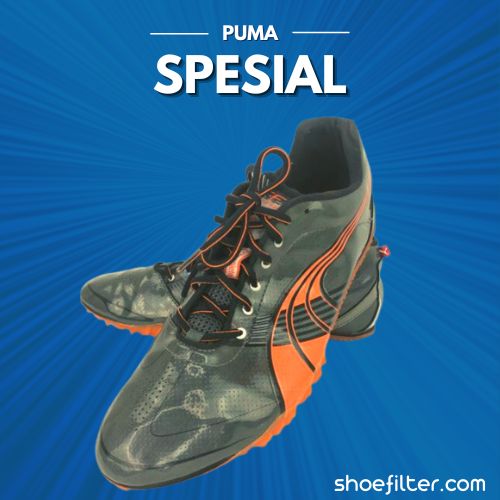 PUMA Complete Tfx Sprint III Track Shoe
Made of synthetic leather upper with air-mesh breathability.
The upper of the shoes also provide additional support to the wearer.
A reliable sprinting spike is equipped with a TPU spike plate.
The pair helps to balance the wearer's weight and use with the durability of the shoe.
Has a rubber outsole for underfoot coverage that augments its grip on various surfaces. 
A track spike that suits both hurdlers as well as sprinters, this pair is an embodiment of support and durability in the tracks. Featuring a design that keeps you in control of the propulsion you get, here are the details on the track shoes:
Whether you are a beginner sprinter or someone who is a seasoned runner, the Puma Complete TFX Sprint 3 will always be reliable for you. An update from its predecessor, it has been made for sprinting, competing, and training. And by boosting your momentum in the events, it has gained a reputation of its own to be a robust pair. 
The foot coverage in the Complete TFX Sprint 3 is in the form of a TPU spike plate. This plate also includes a toe-off which makes you have enough room inside without tripping in your shoes. Also, the shoe being lightweight, it can be easily worn in the field without feeling you're dragging it.
---
Related posts:
Best 800m Spikes
Best 400m Spikes
---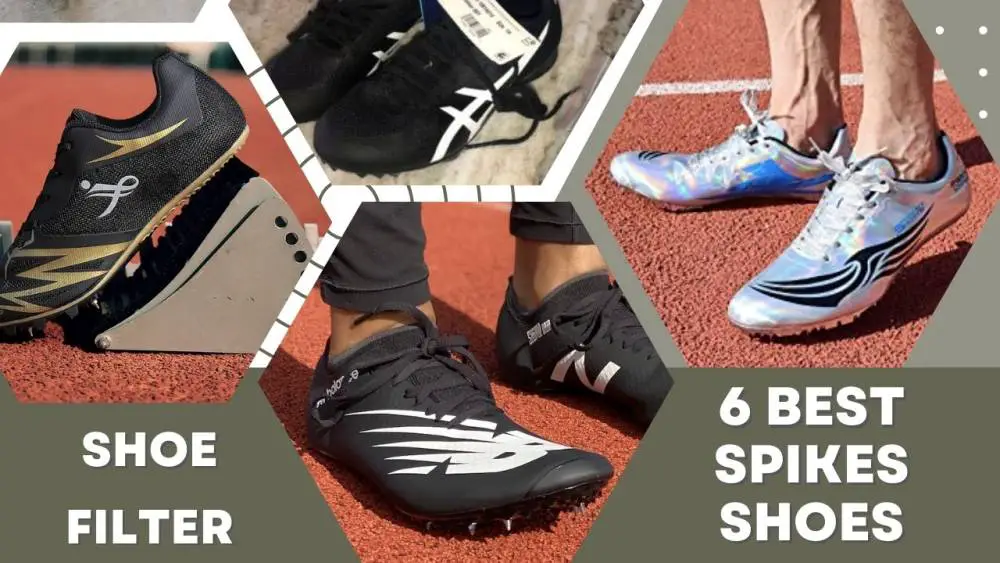 Buying Guide to Get the Best Spikes for Hurdles
Here's a guide on how you should be picking the spikes:
Type of hurdles event
For straight hurdles, you want spikes that can propel you forward. But here you also need to consider what kind of an event that will be. It can be anything from a 110m, 100m, 90m, 80m, or 60m hurdle. 
If your hurdles go over a curve you need both propelling and backing up support for your ankles. It can be from 200m, 300m, or 400m hurdles.
Experience level of the hurdler
Beginner hurdles need spikes that are friendly for their demography. On the other hand, if you are professional, you need more durability, more flexibility, more comfort, and protection from your spikes for your professional game. So your wisest pick would be to opt for sprint shoes based on your experience of sprints.
Picking the right shoe
For short distance runs under 200m, the shoes need to be stiffer with minimal cushioning and have support in both the forefoot and the midfoot. The spike count here may range from 6-10. 
On the other hand, for medium distance runs under 400m, it would be easier to go for 6-8 spikes while at the same time ensuring that you have slightly more flexibility, with the same minimal cushioning but forefoot and midfoot support. 
However, if you are going to use the shoes for jumps as well, make sure that your medium distance (400m) shoes are increasingly flexible with ample cushioning this time in the forefoot, midfoot, and heel areas. The spike count, in this case, should be topically between 4-6.
FAQs
What spikes are considered to be the best for hurdles?
For hurdlers, picking spikes from track athletes' trusted brands like ASICS, Adidas, Nike, PUMA, New Balance among others would help you pick the best shoe for hurdlers.
What type of shoes should hurdlers wear?
Depending on the distance of their sprints, hurdlers can wear shoes that are less flexible and have minimal padding for short-distance runs and shoes with more flexibility and security for medium-distance hurdles.
How tight should hurdle spikes be for the wearer?
Your spikes should fit you true to the size. For this, always check with the size guide that you get from them when you purchase as it may vary across brands.
What size of spikes are best suited for hurdles?
Metal spikes having diabetes of ⅓ or ¼ inches. For pyramid-shaped spikes, the latter is better. However, it can range from 3/16-¼ inches.
Final thoughts
And that brings you to the end of the list for the best spikes for hurdles! As you saw, the best overall was from ASICS. Suitable for both men and women the  Hyper MD 7 is perfect if you want to run 400m or more in superior comfort and freedom of flexibility. 
Again, the Zoom Rival S 9 is great if you are a beginner sprinter/hurdler and if you are more intermediate and are trying to make your way to play professionally, the  adidas Adizero is a great pick. 
For seasoned runners, the PUMA Complete Tfx Sprint is great too! So you see, it depends on your preferences and styles what should be the best for you and you always have our guide to pick from!
Suggestive posts:
Best Spikes less Sprinter shoes
Best Long Distance Track Spikes